Feeling Uninspired
- POSTED ON: Aug 19, 2011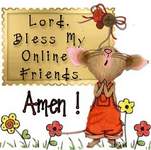 Most of us have days where we feel that we have tried
and tried but our results are still going nowhere.
We can't seem to get inspired and excited
about weight-loss and weight-loss maintenance.
We'd like to take a break from it all,
but the food-intake behavior involved with that
wouldn't maintain our weight,
and we'd only pile on more pounds.
Motivation can only come from inside,
No one is going to come along
and smack us in the face to get us going.
So what to do?
For me, this is where Persistence, Patience and Consistency comes in.
No matter how I feel, I keep on working …in some manner…
toward keeping my food-intake at or below my calorie burn level.
I continue to record all my food into DietPower every day,
and I work to focus my mind to reflect on positive thoughts.
Eventually, my feelings will shift into a more positive area,
and there's a good chance that when they do,
my body will still be in the "normal" weight range.

No Magic,
just a determination toward my committment
to continue on with making a consistent effort.



Comments:


Leave me a comment.



Please Login to comment on this blog.

Existing Comments:


On Aug 19, 2011 kimberchick wrote:
Good morning Phyllis :) I certainly have had my share of those days when I wonder where oh where will I get the motivation to follow my diet today?!!? I have learned so much from you -THANK YOU- and todays blog contains yet another pearl of wisdom for me to take in. If I can just do one thing to help me continue on my wgt loss journey it may help me to do another and then another until, before I know it, I'm motivated and following my eating plan - not focused on results just continuing on with the effort :) Wishing you a happy day <3

| | |
| --- | --- |
| | On Aug 19, 2011 Dr. Collins wrote: |
| | Hi Kimber, that is it exactly ... "not focused on results, just continuing on with the effort" ... Hope your day goes well. |